If you follow us on social media, you may have noticed us teasing our new app, Afrocomix. We are super excited to tell you about it and the endless possibilities it has for content creators and comic lovers. Afrocomix is a comic reader app that houses authentic Afrocentric content created by Africans right here on the continent.  Yes, you read right. There are comic creators in Africa who are creating amazing stuff by retelling our folklores and creating fantasies based on our culture with amazing imagery. For the last eight years, Leti Arts has been working hard to re-present Africa to the world through our games and comics.  Our vision of Africa has always been one that is rich in culture and us being proud of it. An Africa that celebrates its people and mourns together when necessary. An Africa that doesn't bury its head in the sand like an ostrich when faced with problems but tackles it head on like a lioness protecting her cubs. In view of this we created our Africa's Legends franchise to promote African unity and a can do spirit.
With collaboration at the core of our values, we have always worked with various illustrators across Africa when necessary and supported the work of other creatives in our bid to help nurture our young and fragile industry. We however noticed that we face similar challenges in that, our content is fragmented and as such makes it difficult to monetize our work. A lot of our creatives put up their work on Instagram for free when they could be making a couple of bucks from it. Now do not get us wrong, we believe in the power of social media and the fame it comes with but it takes a lot of time and a significant amount of resources to create the art we love so much. In our effort to help solve this and unite the African creative industry, we created Afrocomix to be the hub of all content Africa. We have curated an assorted genre of comics, wallpapers and short animations for our users' perusal. For as low as $0.15 (it will be converted to various country currencies), users will have access to all this content without having to search all over the internet. Payment can be made via mobile money or Visa. We are working together with talented creatives like Josephine Anderson, Setor Fiadzibey, Quaphryma Creative Studio, Kwartelia, etc from Ghana, Peda Studios, Epoch Studios, Meteor Comix, etc from Nigeria, Etascope Studios from Kenya, Master Rui from Uganda and Enigma Studios from Zimbabwe just to mention a few. We hope you enjoy using this app as much as we have enjoyed creating it.
Content providers are entitled to a portion of the revenue generated from the app. We therefore encourage all creatives across the continent to sign onto  Afrocomix to showcase your content to the world. Interested parties should send us an email via publish@letiarts.com for further enquiry. Kindly note that all content will be thoroughly reviewed within a period of two weeks before you will receive a response from us.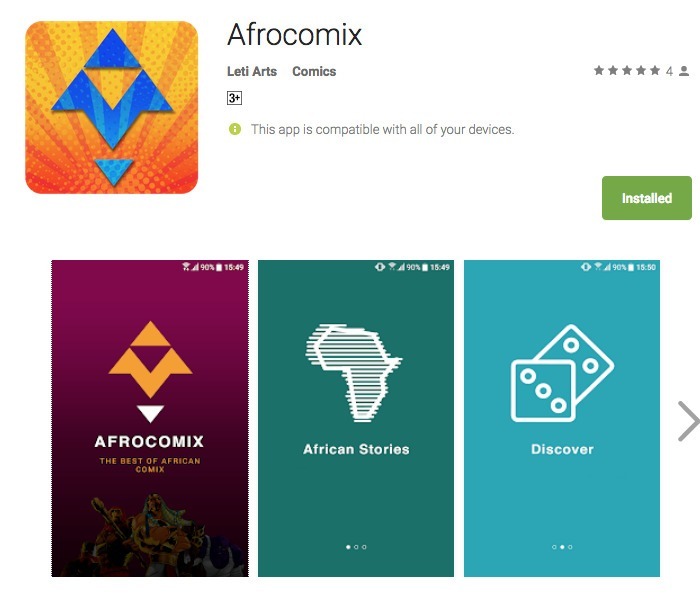 Afrocomix is currently available for Android users on the Google Play Store.  An iOS version will be released soon. Keep an eye on the Afrocomix website and social media (Facebook, Twitter and Instagram) for updates. Follow the steps below to download the app from the Google Play Store
Open your Google Play Store app
Search for Afrocomix
Click install
Voila you are done. Sharing on social media and via text unlocks some content so get to sharing. If you have any issues with the app, you can let us know by filling this form right here. You can also leave your reviews on the Google Play Store. We would appreciate your feedback.