Amidst the vibrant tapestry of Africa's diversity, where ancient traditions meld seamlessly with modern aspirations, an innovative force is at work, shaping the digital realms of entertainment.
This is the story of Cayton Yookow Nhyira Barnes, an African visionary who has harnessed the power of technology to craft interactive experiences that echo the continent's rich talent, celebrate its dynamic present, and envision its boundless future.
Taking Inspiration from Fruit Ninja, the level 200 Academic City University College student is developing Fruitz n Gunz, a first-person shooting range game.
Cayton's relevant education started in The Light Academy, where he had his upper basic school (class 4-6) and Junior High School education. Before that, he went to Glorious Kids Nursery School, North Ridge Lyceum, and Kay Billie Klear Academy. Following that he went to Ghana Christian International High School for my O and A Levels. And he's currently at Academic City University College pursuing Computer Science.
In class two, the "Fruitz n Gunz" developer states that his "nerd" self began to display. He developed an interest in drawing and reading comics as well as playing games on the PS2 his dad bought for him. By the time the game developer got to class four, he was already drawing comic characters as he became obsessed with comics.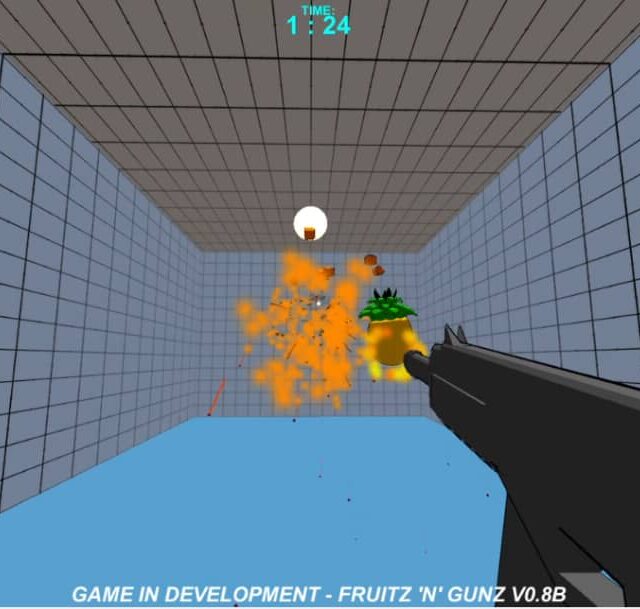 "When I became obsessed with video games, I did the same thing. I started learning how to make games. My first games were made with some game creator mobile app I found on the Google Play Store."
"However, I soon realized I couldn't distribute my games so I started learning how to program computer software, and that has been one of my favorite hobbies since then."
Using C#, Cayton developed a game he would later become proud of. "It all came from a quirky idea I had one time in class. Barnes stated. "What if in Fruit Ninja, instead of slicing fruits you shoot them? So I developed a quick prototype and then got some of my friends to try it."
"Fruitz n Gunz is one game I'm proud of because amongst the numerous ideas I had, it's one I've been able to focus on and brought to life despite having to deal with school, family, and my role as a chorister in the church I attend."
One of the highlights of Fruitz n Gunz is its accessibility. The game demo is playable directly in your web browser, eliminating the need for additional software or platform restrictions. Whether you prefer Chrome, Firefox, Safari, or any other modern browser, you're just a click away from enjoying the colorful and action-packed gameplay.
Moreover, if you're seeking a more immersive experience, Fruitz n Gunz is also available on PC. By downloading and installing the game, you can delve deeper into its intricacies, taking advantage of the larger screen and enhanced controls. The flexibility offered by both web browser and PC compatibility ensures that you can enjoy Fruitz n Gunz wherever and however, you prefer to play.
Its engaging gameplay and unique concept are other angles worth hyping. Fruitz n Gunz offers a refreshing take on the casual gaming genre. As the name suggests, you'll find yourself engaging in a thrilling battle against an onslaught of animated fruits armed with a variety of powerful guns. Blast away watermelons, oranges, pineapples, and other fruits as they come at you in waves, while carefully avoiding their attacks. The game strikes the perfect balance between addictive gameplay and a lighthearted, entertaining atmosphere.
The demo of the game is available to play on itch.io as of now although it is pretty far from the current state of the game. There have been 2 PC downloads and 41 browser plays, while it has made 129 impressions on the website. You can check it out at: https://metamortal4.itch.io/fruitz-n-gunz
The aspiring professional game developer has another digital game under his belt; Redbox. Redbox, his first Unity Game was built by following Brackey's Game Development in Unity Tutorial.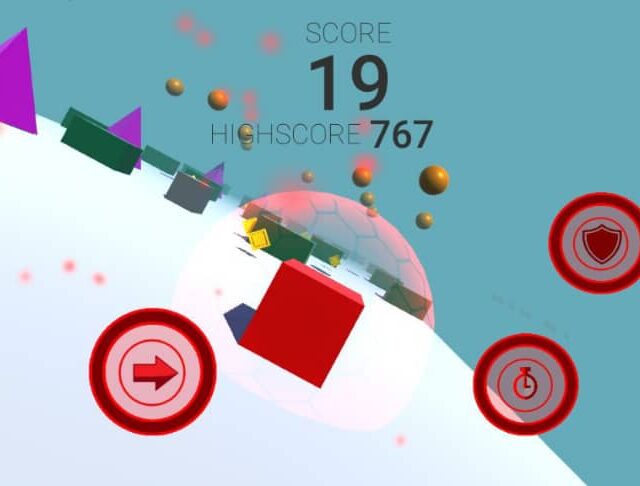 The game is quite simple. The player controls the red box which is constantly moving forward using buttons that allow the player to jump, move left/right, or (if they have purchased the ability/ies) slow down time, activate a shield or blast a projectile that destroys obstacles at the cost of some gold coins which they can pick up.
Back in Junior High School, he also designed a simple physical card game that he used to play with his friends. He hopes to someday remake it as a video game he tells Leti Arts.